PhosMag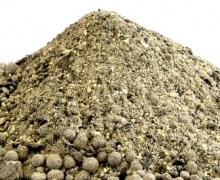 How PhosMag Works
RPR is the perfect, non acidic medium to bred bacteria and fungi and store them in dormant form until soil application stimulates awakening and population explosion, much like inoculating silage with lacto bacillius.Trace elements along with other products can be added to this mix to enjoy the same biological release, giving the right ratios required for a healthy soil.
Phosmag offers the very best combination of VitaLife Magnesium and Vitaphos in one mix.
Benefits of PhosMag
Greater soil storage capacity for nutrients and moisture
Stronger more vigorous plant growth
Improved disease resistance
More efficient use of soil phosphorus
Delivery of magnesium and calcium in a ratio consistent with that required for plant uptake.
Increases magnesium levels in clovers and grasses ensuring improved stock health and particularly effective in reducing the incident of calcium/magnesium related metabolic disorders and lactating animals.
Phosphate extends plants' roots and a constant supply gives maximum root systems to uplift water in drought and minimise root loss in cold and wet winters.
Sizes: 1/2 Tonne bags, 1 Tonne bags and Bulk – We distribute throughout New Zealand